You are single or a couple,
doctoral student or assistant or
a researcher or simply working in Louvain-la-Neuve or the surrounding area and
you would welcome intercultural communication.
Carrefour for Residents provides:

Located in 10/100 rue du Taillis, 1348 Louvain-la-Neuve, Belgium,

23 one-roomed flats (studios), broken down into:

6 furnished studios comprising:
A separate small bathroom with shower and WC,

Equipped kitchette,

gas heating,

12-month leases,

Rent: from €350/month + provision for charges,

A deposit : 2 month rent

- year lease,

renewable once (subject to discussion)
17 unfurnished studios (one-roomed flats) comprising:
Equipped kitchenette area

,

Dining area

Sleeping area,

Living space,

Bathroom with WC,

Electric or gas heating,

Rent: ranging from €455 to €615/month + provision for maintenance costs,

Deposit : 2 months' rent (not including expenses)

A 1-year lease, renewable once(subject to discussion)

Some apartments have a mezzanine too.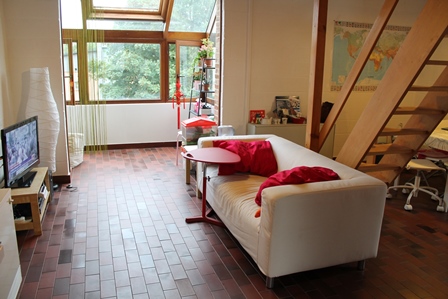 In a word, this is a unique environment within which to acquire knowledge of so-called "other worlds" and lifestyles.