For any information or reservation, please contact us by e-mail at This email address is being protected from spambots. You need JavaScript enabled to view it. if your are student or at This email address is being protected from spambots. You need JavaScript enabled to view it. if you want to apply as a "resident". Phd candidates are not classified as students but as resident.
According to availibilities you will be contacted and may be invited to fill this form depending on your profile and nationality as we try to keep the group multiculturel with a well balanced international distribution. Afther we received your documents you will be contacted for an interview (on Skype if you are not in Belgium) to meet and confirm our respective expectations.related to the project.
Please attach your CV with a photo, proof of registration at UCL if you are a student.
Any request for accommodation booking (or Student Lives) must be accompanied by a letter that contains your commitment and motivation to participate.
you are a student at UCL
you are at least 20 years old
you are undertaking courses of study related to the 2nd or 3rd cycle of your academic career
you would like to meet and interact with young people of other nationalities
Kot Carrefour provides:
- 29 single furnished rooms with private shower (334€/month)

- 7 single furnished rooms with shared shower (300-314€/month)

- with a connection to the internet, free of charge

- with a surface area of approximately 15 m2

- with a large shared kitchen, dining room and recreation room

- a 10-month lease, with effect from 15 September to 14 July

- it's possible to rent the room from mid-July and mid-September

- in a recently constructed building with a garden

- set in the green-belt in a quiet area, close to the town centre

Located in 46 Verte Voie, 1348 Louvain-la-Neuve, Belgium,

To see more pictures, click here
You are single or a couple,
doctoral student or assistant or
a researcher or simply working in Louvain-la-Neuve or the surrounding area and
you would welcome intercultural communication.
Carrefour for Residents provides:

Located in 10/100 rue du Taillis, 1348 Louvain-la-Neuve, Belgium,

23 one-roomed flats (studios), broken down into:

6 furnished studios comprising:
A separate small bathroom with shower and WC,

Equipped kitchette,

gas heating,

12-month leases,

Rent: from €350/month + provision for charges,

A deposit : 2 month rent

- year lease,

renewable once (subject to discussion)
17 unfurnished studios (one-roomed flats) comprising:
Equipped kitchenette area

,

Dining area

Sleeping area,

Living space,

Bathroom with WC,

Electric or gas heating,

Rent: ranging from €455 to €615/month + provision for maintenance costs,

Deposit : 2 months' rent (not including expenses)

A 1-year lease, renewable once(subject to discussion)

Some apartments have a mezzanine too.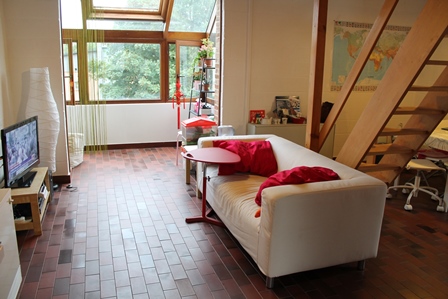 In a word, this is a unique environment within which to acquire knowledge of so-called "other worlds" and lifestyles.